Continuing and Professional Development (CPD) Courses
The information of the CPD Courses for 2018 - 2019 Second Semester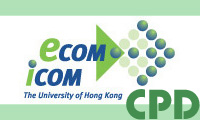 The MSc in Electronic Commerce and Internet Computing Programme opens up a number of selected MSc(ECom&IComp) courses for public and graduates enrolment.
CPD courses and CPD participants
Information about CPD courses and application for enrolment is published on the programme's website at https://www.ecom-icom.hku.hk and on the MSc in Electronic Commerce and Internet Computing Alumni Association website at http://www.meicom.hku.hk three times a year: September, December, and May.
Candidates approved to take our courses as CPD courses are called occasional students but are treated as our regular students for the enrolled course in that they can attend lectures, laboratory and tutorial sessions, and be supplied with course materials. However, they will not be examined.

A Certificate of Attendance signed by the Programme Director and stamped with the name of the Department of Computer Science by the Programme Office of MSc(ECom&IComp) will be awarded to participants who achieves at least 70% attendance.

Unlike our regular students, CPD participants will not have access to the libraries, facilities provided by Information Technology Services (ITS) and various services provided by the University of Hong Kong.

No official student card will be issued.
Entrance requirements
The minimum entrance requirement is a bachelor degree.

Candidates will be admitted on their articulated keenness for continuous and professional development and on their own confident assessment of their ability to meet the pre-requisites and academic demands of the modules.
CPD course fees
MSc(ECom&IComp) CPD course:
- Normal course fee is HK$6,000 per course, and for the programme's graduates who are subscribed alumni members (HKU MSc MEICOM), it is HK$3,000.

Notes:
1. Course fees are not refundable.
2. CPD participants enrolled in the CEF reimbursable courses are not eligible to apply for the Continuing Education Fund (CEF) as the CPD participants will not be assessed.
Enquiries
Enquiries should be directed to Miss Ellen Lam
Office: P3-02, Graduate House, The University of Hong Kong, Pokfulam Road, HK
Phone: 3917-1828
E-mail: ellen@ecom-icom.hku.hk